I've taken the pledge! Now what?
Thank you so much for taking our pledge! Your name has been added to our list of signatures, alongside well-known people and organizations like:
Colin Meloy, Lead Singer of The Decemberists
Mike Elk, Labor Reporter
Steve Silberman, Investigative Reporter and Author
Rachel Simon, Author
The National Autistic Society
The American Association of People with Disabilities (AAPD)
The next step is to spread the word! Tell your friends about the pledge, or share the pledge on social media. You can also add a sidebar widget to your website or blog using the text below: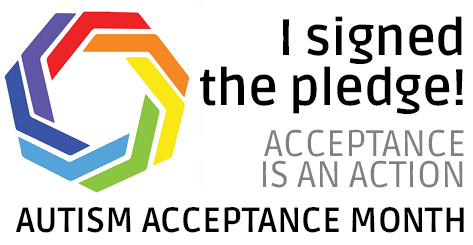 Now that you've taken the pledge, start paying closer attention to all events about autism that you might participate in or attend. If these events don't include autistic speakers, reach out to the event organizers. Let them know you've pledged not to attend or give money to these events until they find autistic speakers.
We've also made a script that you can use to ask if an event includes autistic people:
Does this event include autistic speakers? I've taken the Autistic Self Advocacy Network's pledge to not attend, speak at, or support events that don't include autistic people in conversations about autism. Autistic people are the ones impacted the most by what gets said about autism. That's why autism events must include autistic speakers to make sure they have their voices heard.
If the event organizer says no:
Sorry, but I can't give my business or my time to events that don't include autistic voices. I would love to participate once you've found autistic speakers to include in your event.